A Partial Failure
Maybe calling it a failure is a little bit harsh. This Orange Cardamom Breakfast Twist actually tasted pretty good but the instructions to make it weren't always the easiest to follow.
I found this recipe on Pinterest. It kept showing up in my feed and it looked so good. So, I finally decided to give it a try. The recipe is from I Am Baker and can be found here. At first glance, it does seem to be pretty easy and doesn't require too many ingredients or any ingredients that are odd or would be difficult to find.
It didn't start out on a good note. I followed the instructions to warm milk in the microwave oven and add yeast. The yeast did not bloom. I checked the milk temperature after 40 seconds and it was fine, but nope, the yeast would not bloom. I wouldn't say I like to use my microwave. The microwave doesn't even live in my kitchen that's how little we use it.
I threw out the milk mixture and tried again. This time, I used a pot and my stove. All good!
I added the wet ingredients including the sugar to the bowl and then the first confusing step came. Grate the butter onto a plate or cutting board. In my experience, cold butter is used when you want flaky/puffy type layers and I've always believed if you are doing that, you don't want to handle your dough too much since you don't want to melt the butter. The point is for the butter to melt in the oven which apparently causes the air pockets that lead to flaky/puffy layers.
But, I did as I was directed.
Add the grated butter to the bowl of wet ingredients and add the flour on top. Now, the next instruction says "using your hands, combine the ingredients until just incorporated". So, I did. Then it says you can either continue kneading by hand or add to a stand mixer using the dough hook.
Here's where my next problem came in. The recipe says "when the dough comes together to form a ball". My issue came back to the cold butter. I didn't want to make this into a "regular" dough because I was worried about the butter still doing its thing. There were no pictures in the recipe to show what the "ball" should look like, so this is where I left it.
It was still sticky and lumpy from the butter. But, I covered the bowl and set it aside for an hour as directed. Even though, this did not seem right to me.
After an hour, nothing changed. It was still a sticky lump.
Having to deviate from the recipe
So, not wanting to waste any ingredients (and having promised my family a yummy dessert), I added a bit more flour and kneaded this dough until it was a smooth ball.
Back to the recipe as written and I was on step 6 / 7. The recipe doesn't give dimensions of the rectangle, just that it needs to be roughly in a rectangle shape and 1/2 thick.
I took 1/2 thickness to mean 1/2 inch thick. It seemed right to me.
Next Problem
I now found myself at the filling stage of the recipe. My butter was room temperature, but there was nooooo way it was going to spread evenly on this dough. My best guess is because the smooth ball of dough did not get a chance to rest, it was far too delicate. Anytime I tried to spread the butter, it just mushed and pushed and ripped the dough.
I ended up trying to get as much coverage as possible with slivers of butter.
Once the butter was down, I sprinkled the dough with the brown sugar/cardamom mixture and then rolled the dough into a log, from the long side.
Another issue shows up
There were pictures to explain the cutting of the roll. However, once cut open, my roll of dough did not resemble the pictures and was a nightmare to work with.
When I rolled the dough into the log, I made sure to press as I was going in an attempt to create a good bond. I remembered to do this after a failed attempt at cinnamon raisin bread where I found once my bread was cooked, all the "rolls" separated and it I was unable to make slices out of the loaf of bread.
My issue today was once the roll was split open, my layers started to fall apart and the filling kept dumping out. In the pictures, the filling looks somewhat wet and doesn't appear to be moving at all. I don't know if I should have pressed the filling into the dough when it was still a rectangle or if this became an issue because of the lack of butter being even. I don't know.
I continued on…
It really doesn't look appetizing at this point I tell ya.
I coiled the twisted roll and placed it into my prepared Lodge Cast Iron pan for the second 1-hour proof. I wasn't holding out much hope at this point.
After an hour
It grew! It still doesn't look good, but it grew! So, faith renewed, into the oven it went.
This is what it looked like after the baking but before the icing. It expanded to fill the entire pan. I followed the instructions and covered it with tin foil after the first 25 minutes of baking. I needed more baking time than the recipe called for and actually, after we cut into it, the very centre was still not completely cooked. In total, I cooked it for 10 additional minutes over what the recipe called for. Next time, I'll try another 20.
I'm not sure what happened to the pictures I took of the icing, but trust me, I did make the icing as called for and once the bread cooled, I applied half of the icing. I found the recipe made way too much icing. If I had applied all of it, you wouldn't see any of the actual bread.
The Results
It tasted good! The orange and cardamom worked together very well. We all found it rather sweet so the next time I make it, I will figure out how to cut back on the sugar. I'm thinking of some of the sugar in the dough and some of the sugar in the filling. I'm glad I only used half the icing and would do that again.
I will make this again but with some tweaks to the instructions. First, I will make the dough in my stand mixer and treat it like a regular sweet dough. Second, I'll keep my fingers crossed and hope the room temperature butter smooths out evenly. Then, I will press the filling into the dough before I roll it up. Hopefully, that makes the filling stick so it doesn't spill out when twisting. Finally, I will bake it much longer.
Below is what the recipe should look like. Doesn't that look yummy! It has also made me realize that I need better lighting for my pictures. I'll work on that.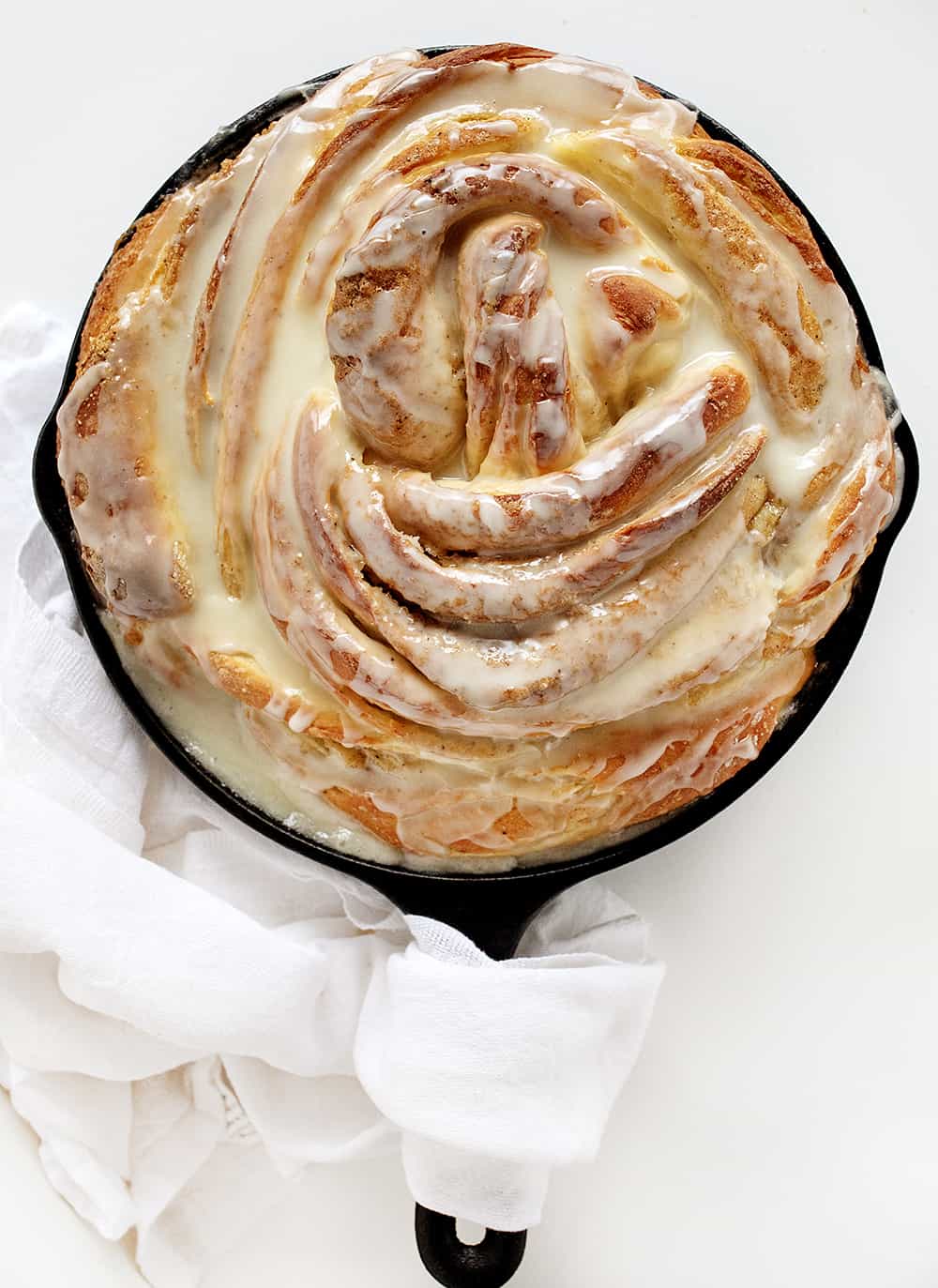 ---
Related: If you are looking for another breakfast idea, check out this Lodge Cast Iron Blueberry Ricotta Skillet Cake.
---
Disclosure: I may receive compensation if you purchase any item through the link provided at no additional cost to you. I only recommend products or services that I have either used myself or would purchase for family and friends. I appreciate your support.
I love my Lodge Cast Iron pan. I highly recommend it for baking or cooking. I love that it can go from stovetop to oven and that I can use metal utensils and not worry about ruining the pan. You can purchase it here.
  This 10.25″ baker's skillet is on my wish list.  I like that it has dual handles.  Not that I need a reason to purchase another piece of cast iron.
  I have this large glass measuring cup.  It is thick and able to handle boiling water.